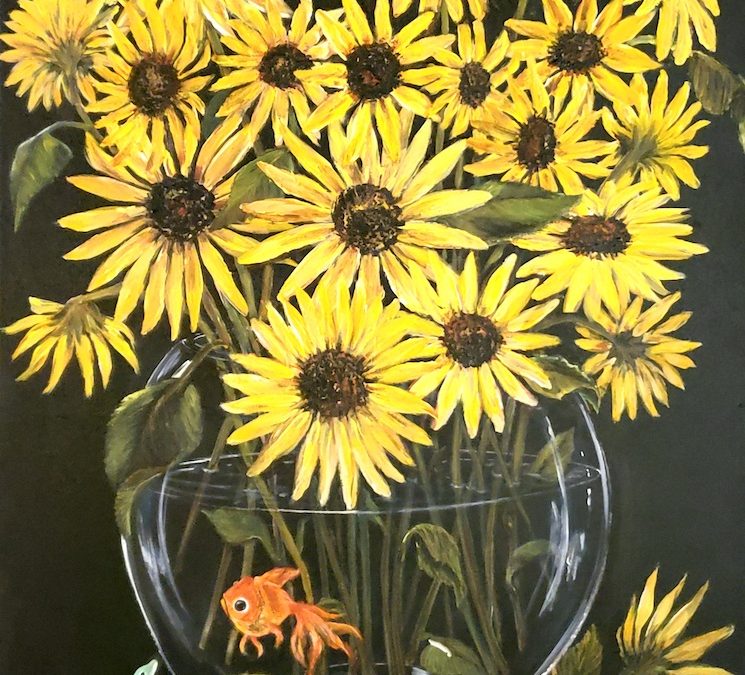 Polli Youngbeck uses her experiences to create original art. This weekend, she'll share her passion in person at the Blue Giraffe's 10th Anniversary celebration on Saturday, Nov. 21. Painting with Polli will be a highlight of the day as she brings her creativity to life in the gallery during the anniversary event. If you can't be there in person, join us LIVE on Facebook at 1 p.m. You can also shop Polli's original artwork online.
Originally from Alabama, Polli's first memories as an artist came from her mother's kitchen as she fervently defended the originality of her drawing to her next-door-neighbor. She was four years old and her neighbor insisted that she had traced the drawing. She heard this story so many times as she grew into her role and found her calling. She is a graduate from Auburn University with a degree in Design and also attended the University Salzburg in Austria and Heidelberg University in Germany for further art training.
Atlanta was Polli's home for most of her adult life where she taught art lessons in her home, schools and park systems until she settled into a new life in Santa Rosa Beach, FL in 2008. She believes that God has blessed her with rich experiences and has given her the foundation for so much of what she paints. She paints with a passion and fervency of loss and pain as well as love, happiness, kindness and sacrifice. She paints with the wisdom and knowing of age and hardship that she has learned from every stroke of her life.
We hope you can join us for Painting with Polli in the gallery or online. For the health and safety of attendees and artists, participants are required to wear masks and encouraged to social distance during the event.
We hope to see you there. Cheers to 10 years!