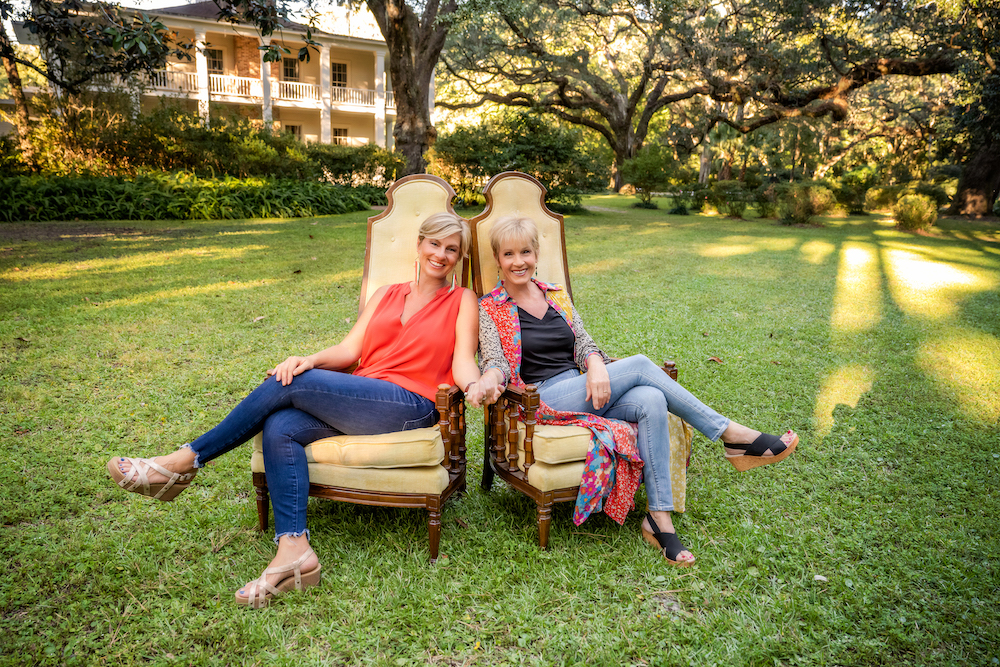 The 2023 Perfect in Walton County votes are in and we are honored to be voted Diamond Award Winner for Best Art Gallery/Studio! Thank you so much for your love and support the past twelve years … you helped us achieve the #1 spot this year and we are humbled.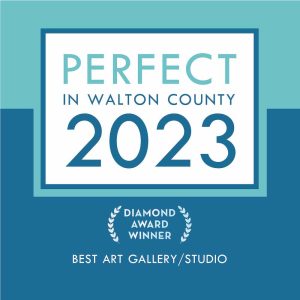 "Art & Gifts with Heart"

This is the motto that guides everything we do in our business. When you visit our gallery in Inlet Beach or shop on our website, we want you to feel uplifted and inspired.
Please get to know us a little better by reading "Our Story" and have fun browsing our online Shop.
May the coming year be good to you in every way, and may your life be filled with joy.
Love, Christi & Debbie
You can shop in our colorful, upbeat gallery in Inlet Beach:
Monday – Friday 10:00 – 5:30, and Saturday 10:00 – 4:00.
13123 East Emerald Coast Parkway Suite E
Inlet Beach, FL 32461
850-326-5939
~~~~~~~~~~~~~~~~~~~~~~~~~~~~~~
Need a Personal Shopper or an Art Consultant for your home or business?
Call Christi at 850-326-5939. She loves to help people find the perfect gift for a loved one and artwork for their home or office!
~~~~~~~~~~~~~~~~~~~~~~~~~~~~~~
If you want to know about all of our gallery happenings, click Art in Your In Box. We promise not to send too many emails.
Follow us on Facebook and Instagram to get some daily color, inspiration, and HAPPY!
Welcome to The Blue Giraffe's online gallery! We hope your visit makes you feel inspired and just plain happy!
shop for art & gifts!
Holiday Open House & 13th Anniversary Celebration
We hope you'll join us to kick-off the holiday season and celebrate our 13th anniversary! Always a FUN day in the gallery, you can shop while enjoying sweet treats, festive libations, and our special guests. We'll also be raffling off several unique gifts with proceeds donated to our friends at Cultural Arts Alliance of Walton County. It's our way of saying Thank You for all they do to support the local art community!
Shop for Art & Gifts!
We've got the perfect art for your home and great gifts too…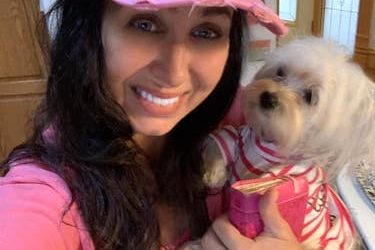 Meet our Gallery Night featured artist Diane Naylor on November 11, 2021 from 4-7 p.m. See her new collections while enjoying light bites and bubbly. Raised in the rolling hills of Grant Wood County of Eastern Iowa, Diane attended Minneapolis College of Art and Design...
read more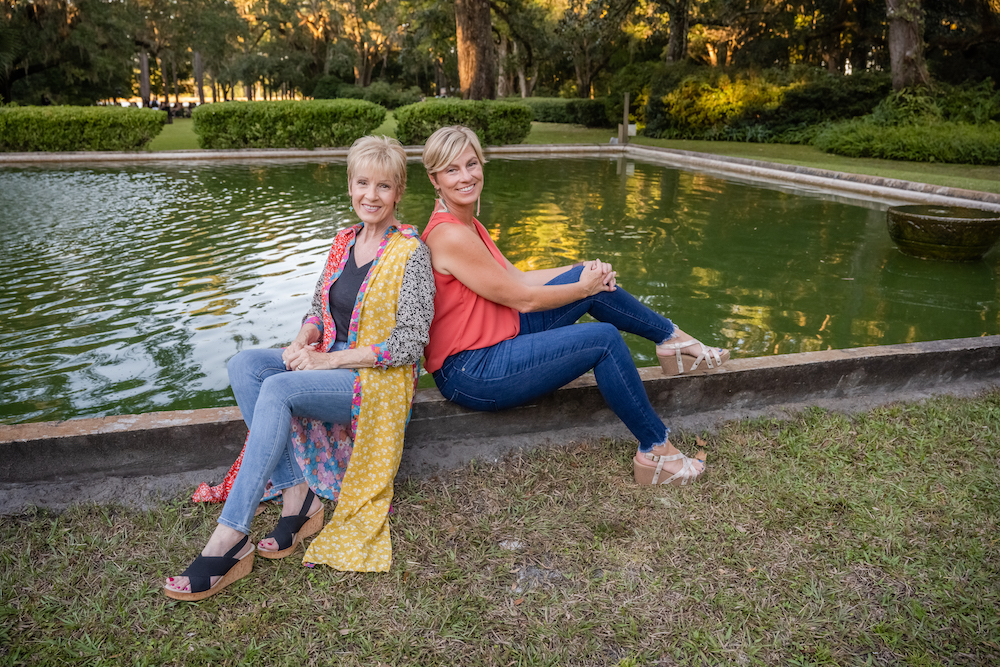 Our Story…
Need a smile or spark of inspiration?  Debbie Taylor and Christi Sheffield, a dynamic mother-daughter duo, offer that and more at The Blue Giraffe. Get to know the women behind this beloved 30A gallery.
Debbie Taylor traded flip charts for flip-flops when she retired from corporate life to Watersound Beach. Serendipity was in the salt air for Debbie when she realized two lifetime goals: owning a bookstore (really it's a little book nook inside an art gallery) and being in business with Christi. In addition to being her daughter's biggest believer, Debbie is The Blue Giraffe's business consultant, financial advisor and marketing fairy. Debbie's is a charmed life fueled by gratitude and warmth. Her soul mate, Larry, (pssst…they met on a blind date in 1974 and wed shortly after!) and their utterly adorable Ragdoll "kittys", Maui Girl and Bella Blue, couldn't agree more. Debbie extends her heart as a volunteer Turtle Walker with South Walton Turtle Watch. She's a member of Seagrove Garden Club, two local book clubs and enjoys photography, yoga, golf and travel.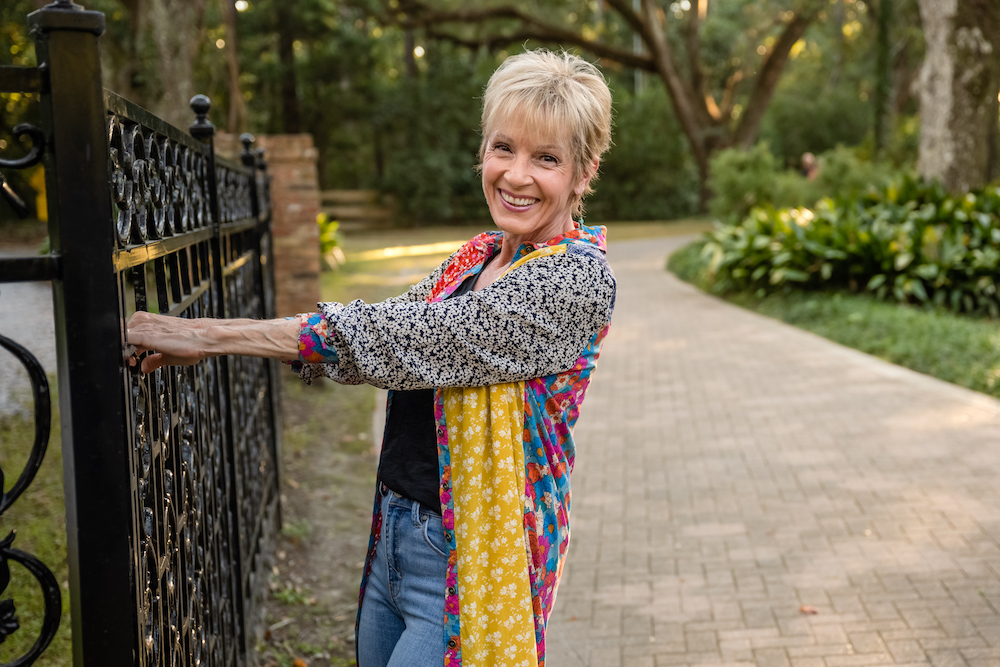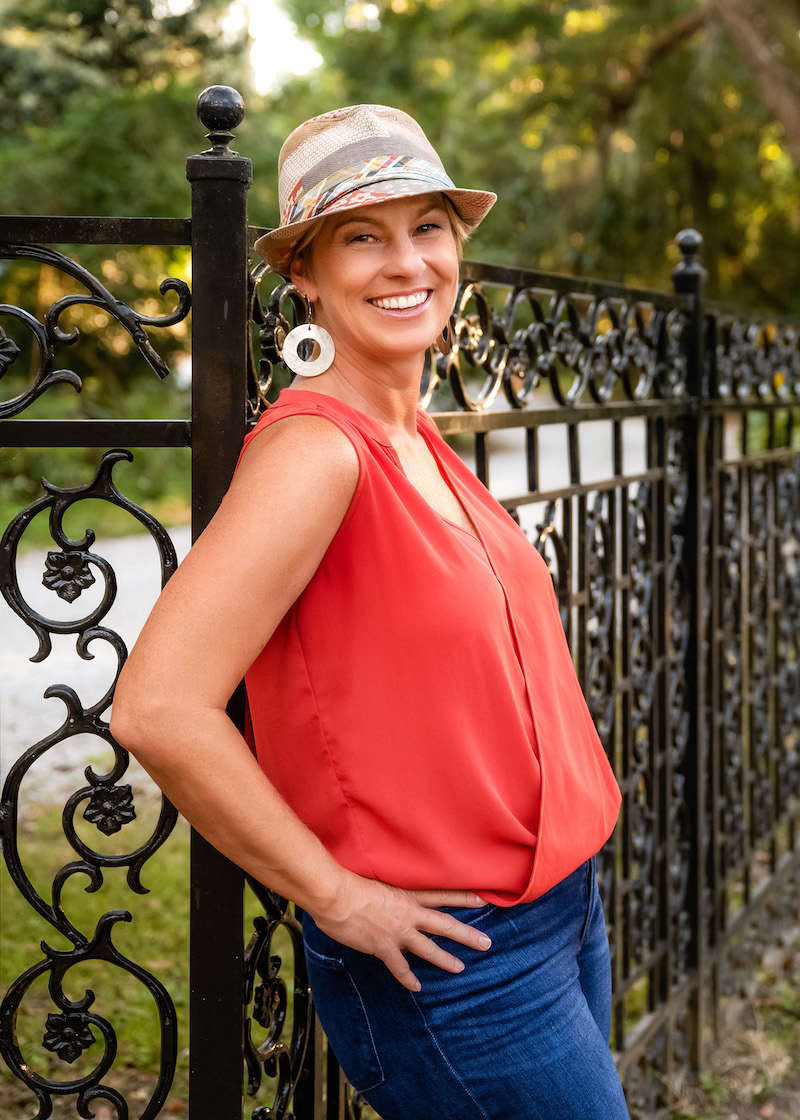 Christi Sheffield always dreamed of being in the arts and in business with her mother. It was after a career in accounting that her wishes were granted. Another came true when she met her soul mate, Cliff, on (are you sitting?) her parents' wedding anniversary. Christi shares her love and light by helping others realize their artistic potential, as evidenced by the original pieces that beam from The Blue Giraffe's walls. She's the face of the gallery, and her infectious smile and laugh keep customers returning year after year. A lover of food, wine and craft cocktails, Christi smiles even wider when toasting friends and family. Christi's "happy" includes yoga, beach days, reading, traveling, cooking and confirming that yes, she is her mom's boss.
In September 2010 Christi got an unexpected call from Michele Myers, The Blue Giraffe's creator. Some might say it was all a coincidence; we call it a God wink. Michele said God led her to ask them to buy her "fun and funky" shop on 30A. Less than 60 days later they were all gathered holding hands in the gallery. Michele said a prayer and handed over the keys. As she walked out the door Debbie and Christi looked at each other in amazement…and the magic began.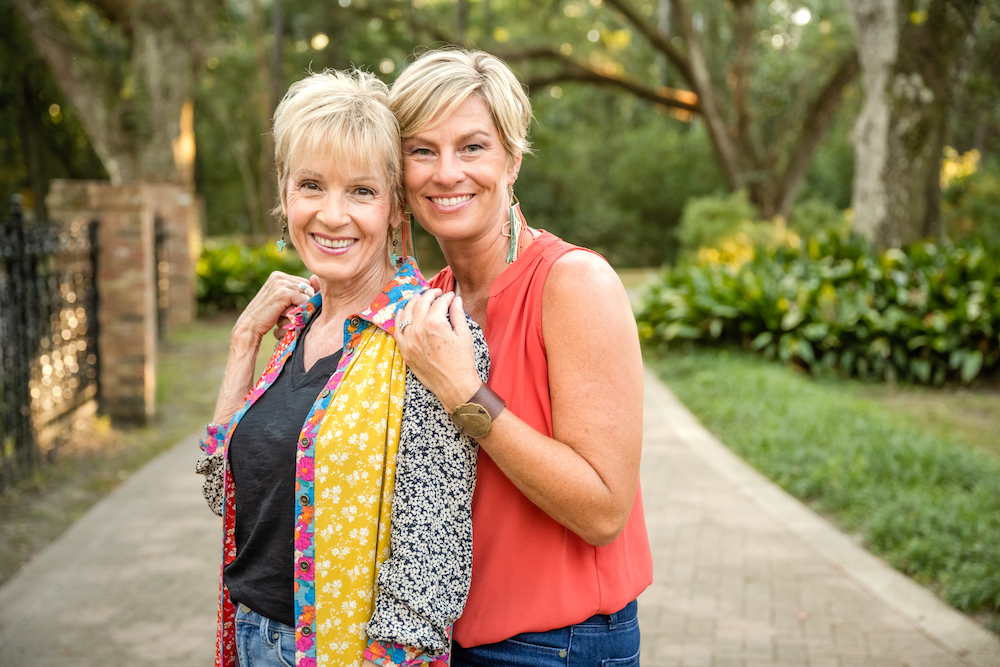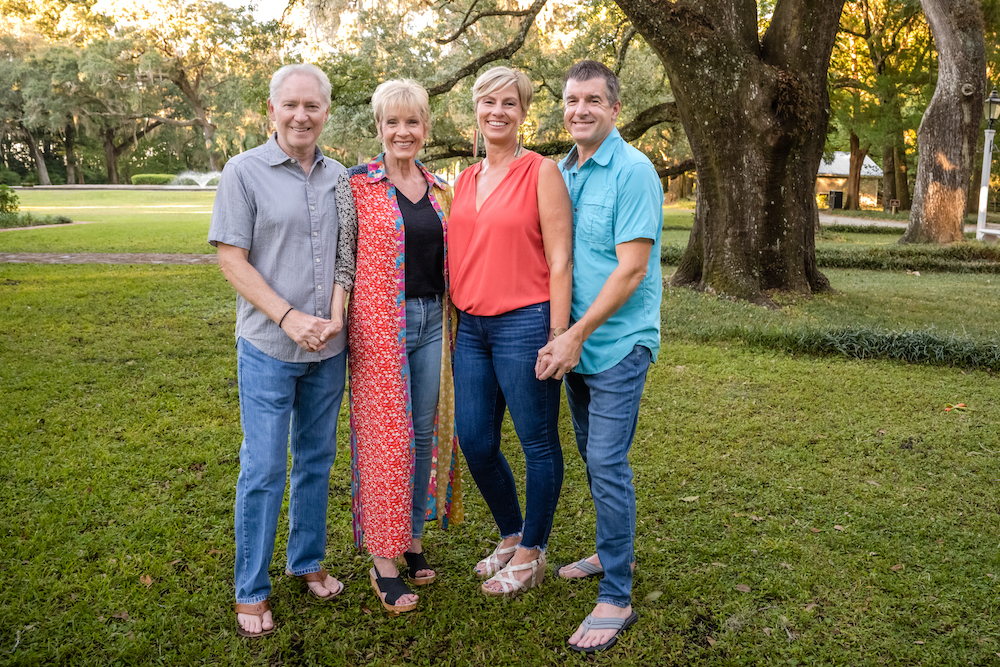 The support of loving husbands make it all possible. Being best friends makes it all FUN! 
Larry, Debbie, Christi, and Cliff (l-r).
Their customers say The Blue Giraffe is one of the happiest places on 30A.
"I feel so good when I'm in your shop." Allison K., Dallas TX
"We always visit the Blue Giraffe when we come to town." Jeff M., Atlanta GA
"This is my favorite place to shop on 30A." Kristin O., Piedmont CA
They've created a beautiful, colorful space with you in mind. You'll feel uplifted as you discover inspirational gifts and art displayed from floor to ceiling. They're honored to represent many local and regional award-winning artists who partner exclusively with them to showcase and sell their special creations.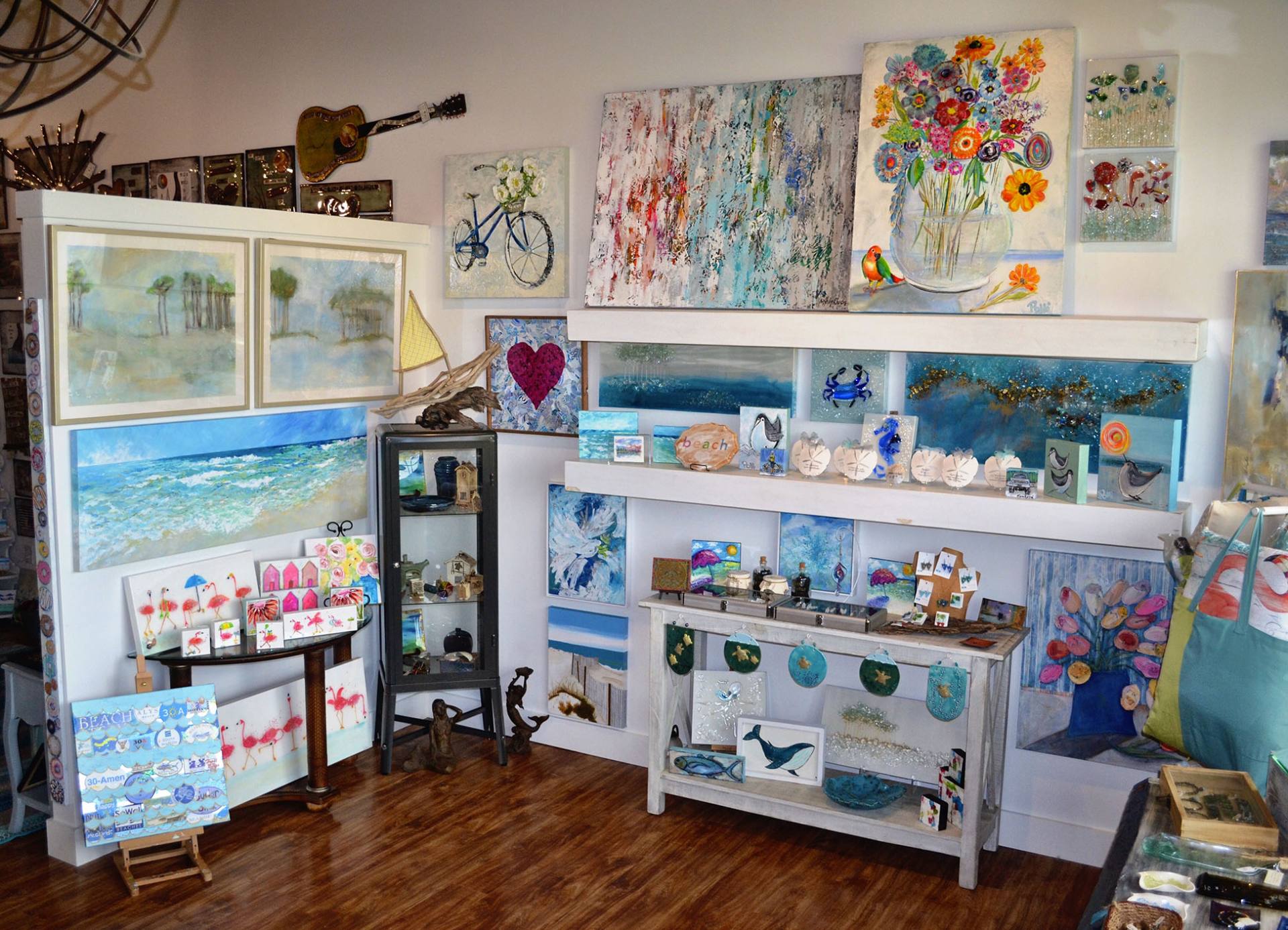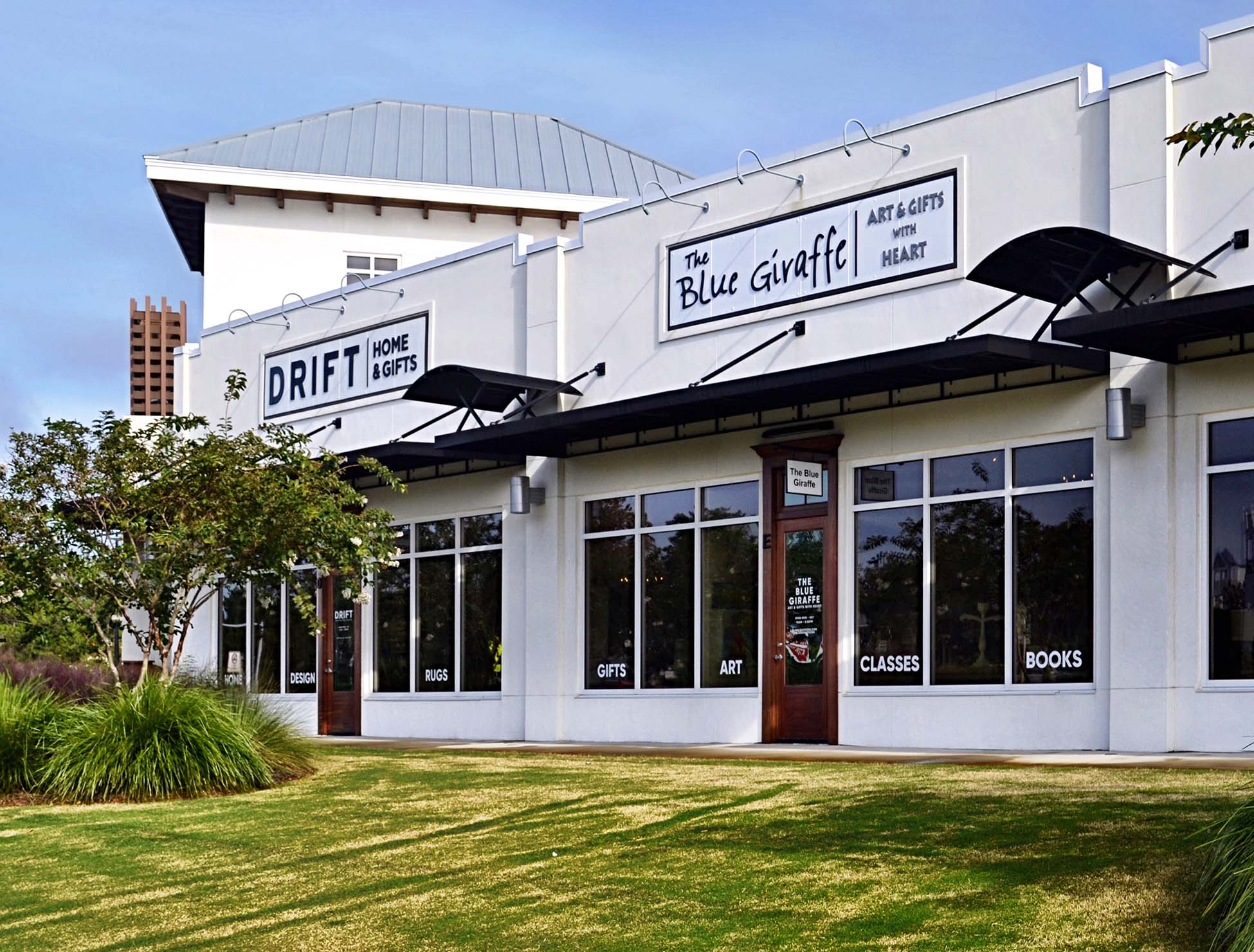 You can find The Blue Giraffe at Crossings at Inlet Beach, just east of the Rosemary Beach/Hwy 30A & 98 intersection. We relocated to Inlet Beach (from WaterColor) in October 2019. We're easier to get to AND we have parking to the side and back of the building, woohoo! You'll love our upbeat gallery with amazing artists and one-of-a-kind gifts.
Their story is not complete without introducing you to Jeanie, the gallery's original blue giraffe. She stands tall and proud outside our front door to welcome you. Named in honor of Debbie's mother and Christi's beloved Grandma, Jeanie is very photogenic. She loves being in selfies and the center of attention in a group portrait (she's never been shy about those legs!). She'll be your friend forever when you let us add your snap to her gallery. Did you know a giraffe's heart is two feet long and weighs 25 pounds? Everyone on the Giraffe Team imagines their hearts to be that big. They use their heart power to spread happiness on 30A and beyond supporting organizations that help people and animals in need of love.
THE BLUE GIRAFFE BELIEVES…
In the goodness of people
Hugs and smiles are the best medicine
A good book opens up entire worlds to those who read
Family means everything
Kindness and respect should be given to all beings-furry ones, too
Being creative is good for the soul
In looking at the sunny side of things
Friendships are a true blessing
Voltaire nailed it when he said, "Writing is the painting of the voice."
It is good to color outside the lines
Listening is more important than talking
The beach imparts peace and joy
God can be seen in Nature
Love can heal all things.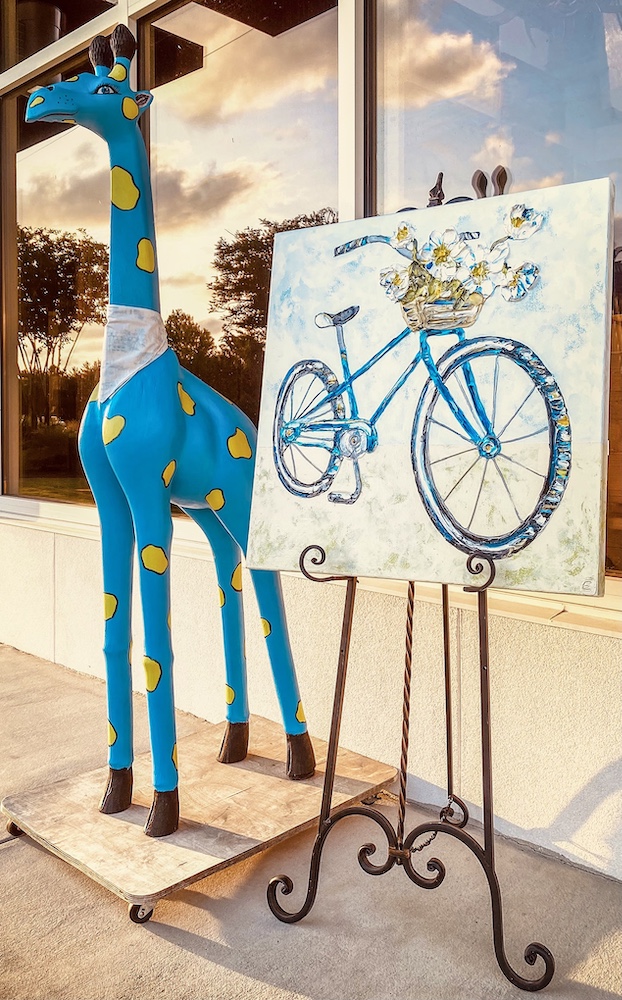 Perfect in South Walton Best Art Gallery & 30A Hot Spot!
Next time you're on the Emerald Coast, stop in and see why we were voted a "30A Hot Spot for Art and Gifts" and "Perfect in South Walton Best Art Gallery/Studio". You'll be welcomed with love and happy hearts! Until then, we hope you'll enjoy frequent visits to our website.