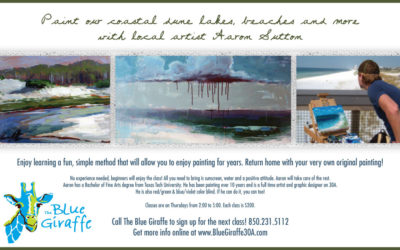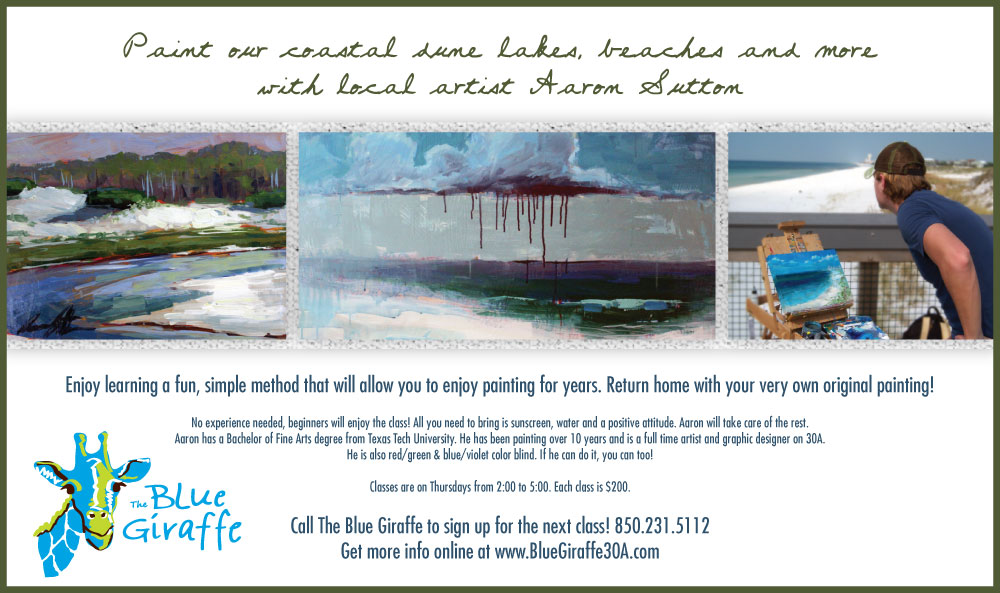 Learn to paint with local artist, Aaron Sutton! Sign-up for a semi-private class with an incredibly gifted, colorblind artist. Aaron will meet you at one of the gorgeous coastal areas along 30A and teach you a simple technique using acrylics on canvas. You'll be amazed at the beautiful artwork you will create and you'll have such fun doing it! No experience is needed and supplies will be provided. You only need to bring sunscreen, water, and a positive attitude.
Classes are on Thursdays from 2:00 to 5:00 and the cost is $200 per person. Space is limited so sign-up now by calling The Blue Giraffe at 850.231.5112.
Aaron has a Bachelor of Fine Arts degree from Texas Tech University. He has been painting for over 10 years and is a full time artist and graphic designer on 30A. He is also red/green and blue/violet color blind. If he can do it, you can too! Read more about Aaron Sutton by visiting our ARTISTS page and our BLOG.
We would like you to meet Rob and Ginger … they had a blast learning to paint with Aaron while recently vacationing on 30A :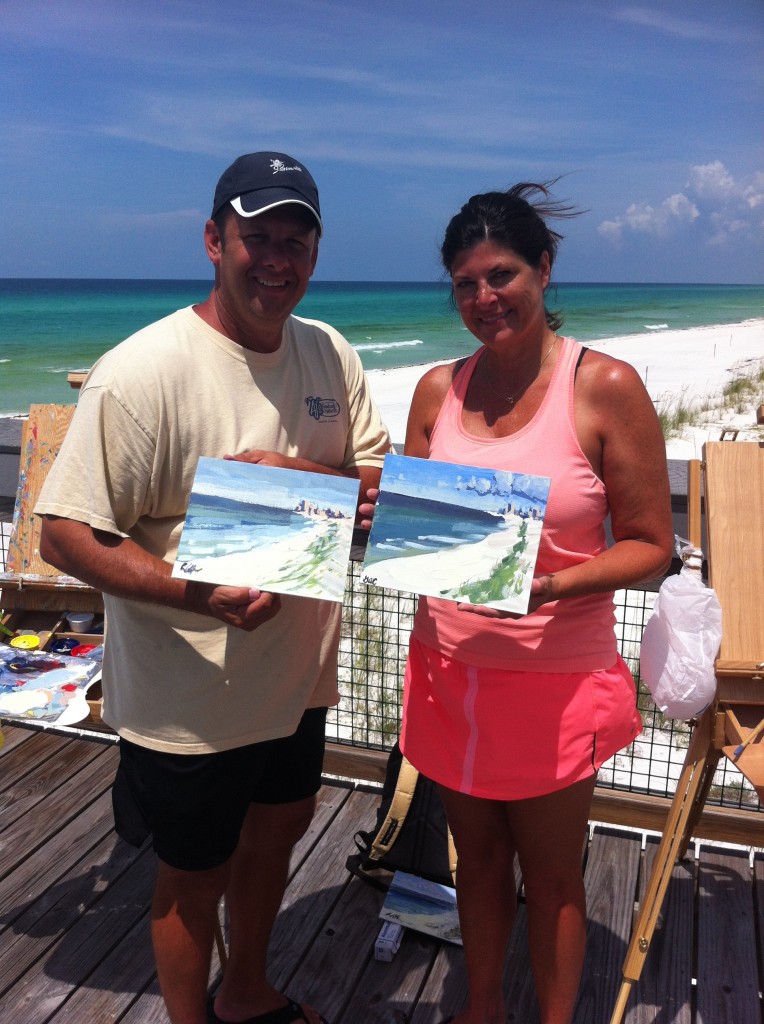 Testimonial from one of Aaron's former students:
"I am an art major at Union University. For my spring break I got to spend a couple of hours meeting Mr. Aaron Sutton as well as painting with him at a local park on the beach. I am not an experienced painter, but it is one form of art that I enjoy doing. I have taken a couple of art lessons and classes while growing up, but I learned more from Mr. Sutton in just one lesson. I enjoyed viewing his work that was in his gallery as well as a few current pieces he was working on. He guided me while I painted a landscape of the beach. I got to experience techniques that he uses himself, which were very new to me. I had a great time and I was impressed that I painted the painting I did. Mr. Sutton was not only a good teacher, but also very encouraging and intentional. As an art student i appreciated that because pursuing art as a career is my goal and it is usually not an easy one. As soon as I got back home I bought certain things Mr. Sutton uses and I am now practicing the methods and techniques that he practiced with me. Overall my experience with him has given me way more confidence as a painter and helped me explore things about paint I did not know before."  – Kenzie Carter
Find this ad in The Walton Sun on June 29, 2013: