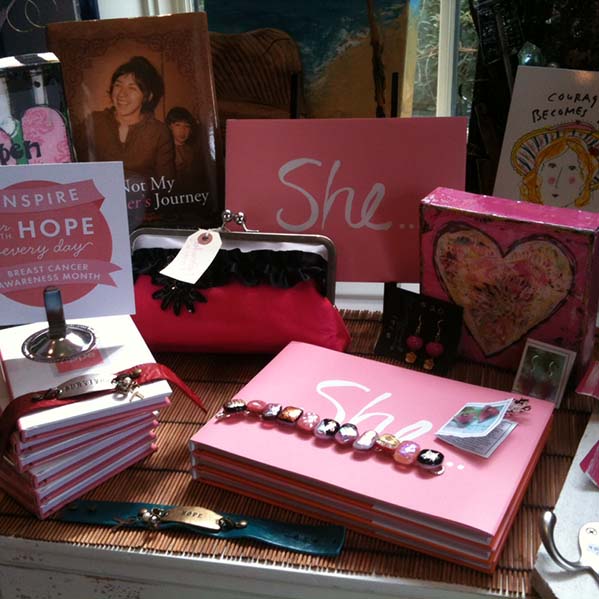 Gifts meant to bring hope to those battling cancer during National Breast Cancer Awareness Month – a time to honor cancer patients, survivors, and their loved ones:
She: This little pink book by Kobi Yamada celebrates the special women in our lives — the ones who care, laugh, lead and make a difference for everyone around them. Inspire, celebrate, and thank them with the She book.
Hope Every Day Journal: Research supports the notion that every cancer patient should keep a daily journal of not just their thoughts, feelings and concerns, but also a record of their successes and their victories over this disease—no matter how seemingly small.
With affirming quotations on each page, this journal is an ideal companion to keep spirits high throughout the fight.
The Good Life – Hope: Cancer survivors call hope "life's parachute." This is a very special book of hope, love, affirmation, and encouragement—a welcome and inspiring gift for cancer patients and their friends, family, and caregivers.
Not My Mother's Journey: Heather St. Aubin-Stout's award-winning memoir is an honest, compelling story about her journey through two battles with breast cancer.
There is talk that Rockstar Games will require $500 at least million to build up the up and coming gta 6 gameplay. The sum appears to be absurd however there is a whole other world to this story. Rockstar wants to incorporate VR bolster for GTA VI. This is the motivation behind why the GTA VI advancement cost is twofold the measure of the last diversion
Inspirational Gifts in Pink: Crosses, Hearts, Handbags, Jewelry and Artwork … original creations by our talented artists. We have many special items to choose from that will lift up and bring hope to your loved ones.