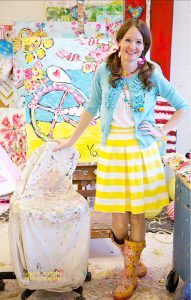 Tricia was born in North Carolina but spent most of her growing up years in Cedartown a small town in NW Georgia. With fun, adventurous parents who loved the outdoors. She grew up with a love for beauty in nature. Nature was not just a word to say but something to be in and enjoy for long periods of time. It was through the times of playing outdoors and camping under the stars with her family that her creativity and imagination was given a place to bloom.
Other blooms in her life come from a line of artists in the family. Her mother and grandmother were both artists. Tricia began drawing at an early age and drawing became a happy pastime. The one thing she remembers from her first grade class was the bulletin board with illustrated pictures of smiling children and flowers. Tricia would spend her free time copying the pictures over and over. She spent hours drawing her "little people" and houses surrounded by colorful flowers. As she grew older, she loved drawing people and designing clothes. Her mother was an excellent seamstress who helped Tricia turn her designs into real creations. Tricia's dream in high school was to be a fashion designer and live in New York City.
Instead of NYC, Tricia ventured off to college in Birmingham, Alabama and took art classes. But she never found that creative spark in the classroom. Her outlet for drawing turned into designing cards for friends and family and drawing flowers now and then.
In 2002, Tricia and her mom started a small business. They hand-painted children's furniture, sold to friends and entered art shows. Being inspired by other artists, Tricia enjoyed painting on wooden boards and loved the freedom of lines and happiness of swirls and flowers. Soon, the furniture started giving way to wood and canvas. She has now found her style and voice through cheerful paintings and bright colors. "I want people to see my paintings and be inspired to view life with a little more playfulness and beauty."
She values the simple things in life. "It is finding the joy in the everyday that gives a full and free life". Her children are teaching her more about stopping to really enjoy the tiny things in life such as a bug or a flower petal. She and her family love spending time outdoors and finding goodness and beauty in this "spectacular wonder land we live in". Her ongoing theme is to have a "sensus lusus", meaning "playful spirit." It makes the days so much bigger and brighter when we have a spirit of play," she says.
Tricia's life is not all sunshine; the rain has caused her to grow and dig deeper. In 2002, her father had a severe brain injury and she also found out she could never have children of her own. However, the rain brings flowers and in the spring of 2003, she and her husband flew to Russia and adopted their sparkle eyed son, Sam. Then, in the fall of 2008, Mike, Tricia, and Sam flew to Russia again to adopt their sweet little girl, Rosie! Mike and Tricia have learned much from their children, especially the art of living in the moment, using one's imagination, and "joie de vivre" ( the joy of life!)
Tricia's hope is to show whimsy and cheer through her paintings. "Yes, there is pain in this world. but God gives us so much beauty. And I believe one of the reasons why he gives us beauty is to ease our pain at times and show His tender love. So next time you feel sad, look at a beautiful painting or a colorful flower and notice a little smile coming into your heart."
That is Tricia's hope… her wish…. bringing smiles into people's hearts through paint and brush.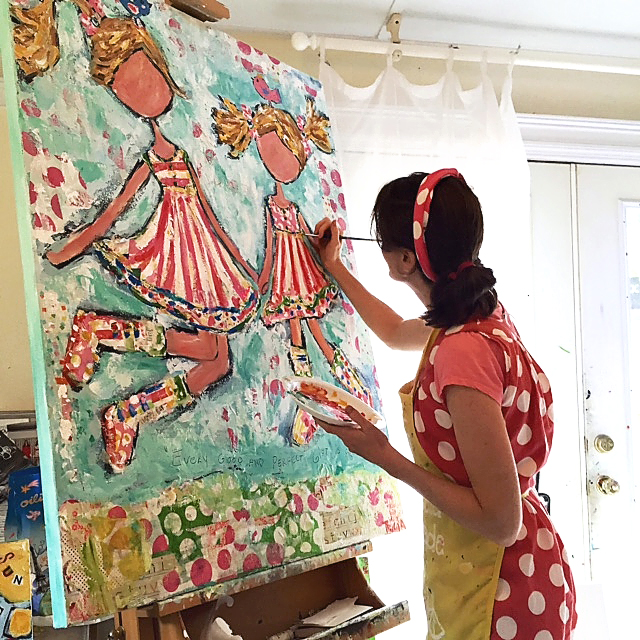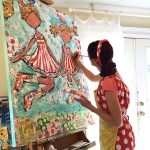 You can find Tricia's art in homes from New York to Chicago to Los Angeles and all over the Southeast. From singer songwriter Jennifer Nettles of Sugarland to Auburn head coach Gene Chizik; from the founder and owner of Vera Bradley to the Dunn family of Brooks & Dunn, Tricia's work captures hearts and inspires imaginations of those young and old.
Honors
•Saks Fifth Avenue Market 2010, 2011
•Top Seller Whimsy Category Spotlight on the Arts, Trinity School Show 2010, 2011
•Featured Artist at Rosemary Beach Girls Getaway Weekend 2009
•Best in Show, Cedar Valley Arts Festival
Tricia Robinson Gallery – 2016:
Tricia Robinson Gallery – 2015 and Earlier:
Tricia Robinson Gallery – Guitars: