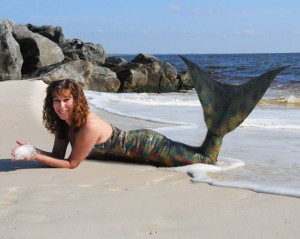 How It Happened
When my first children's book was published, I disliked the illustrations (The Crab Man; Turtle Books). I started taking art classes in hopes of illustrating my next book. But my drawing skills were so weak, I was sure I was doomed to write stories about stick people.
While on vacation in Florida, I tried painting seascapes. They were horrid–stiff and lifeless. One day while walking on the beach, I saw a mound of bubbly sea foam sitting on the shoreline. I scooped up a handful and stared at it. Instead of popping, it stared back. I ran to my apartment and grabbed a big pot. Then I ran back to the foam and placed it in the pot. I ran back to my apartment and used the foam in a painting. Wow! Sea foam added fluidity, texture, and brought my paintings to life.
The Process
My paintings are a mix of watercolor and sea foam. I use my hands to lay the foam into the paint. Sea shell imprints add texture and pattern. After the painting is covered with foam, I set it aside to dry. Later, I brush off the sand, salt and organic residue. Underneath I see foam imprints and sand colored stains combined with effervescent paint. I've captured the sea on paper!