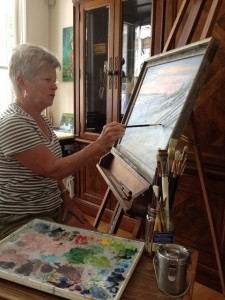 Jeanie Posey works primarily in oil on canvas, although she often paints in watercolor during her travels. Her subjects reflect her love of coastal scenes on 30A and action portraits of children (and grandchildren) at play as well as her tennis team on the courts. When she is not traveling, Jeanie spends her time painting and playing tennis in Atlanta and Blue Mountain Beach.
She has enjoyed painting since childhood. However, pursuit of her passion for art was delayed for 41 years during her career as a high school science teacher, a curriculum and school improvement specialist, and, most recently, Deputy State Superintendent of Education for the State of Georgia. Since retiring and becoming serious about her work as an artist, she has studied under notables such as Michelle Torrez in Denver and Thomas Nash in Atlanta.
She has been recognized by her peers in juried competitions and has won awards in shows in Georgia and Florida. She is a member of the Roswell Fine Arts Alliance and the Cultural Arts Alliance of Walton County.