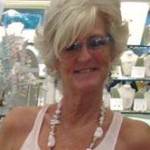 Sea Inspired Custom Made Jewelry
Constance Snellgrove, aka Sassy Jewels, whose love for not only sea life but life in general, is infectious. Once you meet her you will never forget her! Connie utilizes only the best of semi-precious stones, pearls from around the world, crystals and antique glass and sterling silver for her creations.
A native born, Constance sees her inspiration in the wonderful unique colors of Florida. Her use of nature's colors, a sparkle of sun on azure waters, sunsets, delicate flowers, silver sea life, sea oats, sand and driftwood, give a natural and real life to her jewelry designs.
Connie experienced a period in her life filled with dark despair. Eventually, through a spiritual awakening and the help of the 12 steps, Connie began a new journey. Her joy, energy and zest for life is reflected in her beautiful creations.