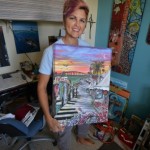 Scroll down to see some of Sara Leirly's artwork.
Hello, friends! My name is Sara Lierly. I have lived in the beautiful state of Florida for over 10 years, but finally settled on the Emerald Coast in 2007 where I first began painting in 2008. Here's the long and short:
I grew up on 80 acres in northeastern Oklahoma. As one might imagine, I spent the days of my childhood catching grasshoppers for fishing, making firefly lanterns, riding horses, and waiting on the train to come so I could retrieve my squished pennies. Though I adored growing up this way and will cherish it always, there seemed to be an almost cosmic pull elsewhere. I spent many years uneasy about this feeling, but the first time my five senses met the saltwater, all uncertainty waned. Finally, when I was 23, I packed what I could fit in the back of my truck and headed south, eventually landing in a sleepy little island town on the Atlantic Coast of Florida called Satellite Beach. I worked for a small charter company running nature tours and fishing trips out of Cape Canaveral where I accrued enough hours on the water to obtain my captain's license. License in hand and travel trailer in tow, my partner and I set out for adventure on the open road. Coincidentally, we ran out of gas money while passing through Destin, and decided to stop and see if we could find work. Shortly after, I began working as a deckhand on the charter fishing vessel, Miss Nautica. Spending my days on the water had been a dream of mine since I was old enough to know I could. After a season fishing, we had saved a few bucks in a shoebox, and true to form, opted to hit the road again. We spent the better part of a year bouncing around the western half of the United States. By the time we returned to Destin, we were facing an economic recession. We were broke… and we were growing more concerned by the minute. One afternoon, I was sitting at a little pizza joint talking with the owner when he said, "I need someone to paint a mural, and I'm paying in pizza slices. You're an artist…. Right?" And because I was poor enough to wonder where my next meal might come from, I responded, "Nah… I'm not really an artist, but I'll give it a shot. If it's terrible, we'll just paint over it." He laughed and shook my hand, "Deal!" As it turns out the mural wasn't terrible…. and over the next few years, I would acquire a few sporadic art jobs. Eventually, we regained our footing, rented a little place on the harbor, and settled into life. Then in 2011, a series of profound events merged to produce the perfect storm of inspiration within me, and I haven't stopped creating since. The back story is quite lengthy so I'll save it, but I am an open book so feel free to inquire sometime. 🙂 Through it all, I've learned that I am really only a tiny vessel in the channel of creativity which flows through each of us infinitely. I do not TRY to create. I simply allow that which has already been created to travel outside of me. Since October 2011, I have created a larger quantity of work than in the previous 31 years combined and now work full time as an artist. My partner became my fiancée. My golden retriever turned into an old man. And my work has evolved and morphed in ways I never imagined were possible. In September of this year (2014), we left our home on the harbor in Destin and moved back into our travel trailer to finish what we started. We are currently traveling the country doing art shows and generally just feeding our gypsy souls. 30A, The Blue Giraffe,  and South Walton county remain home base, and we always look forward to our time on the Emerald coast!