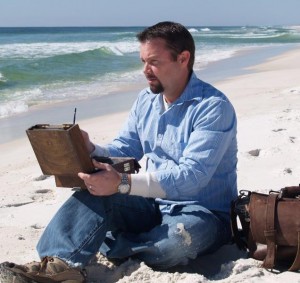 Martin Figlinski (b. 1970) lives in the Panhandle of Florida with his wife and two kids. Living near the Gulf all his life, he never tires of the endless beauty the area offers. Martin paints on location, from life, as much as possible as he deems this necessary to capture the overall feel of his subjects. "While painting on location, I'm experiencing the scene in front of me. Beyond the actual subject, the weather, atmosphere and changing light play a role in the mood of the finished piece." Often, these "plein air" pieces are used as reference for larger works done in the studio.
His paintings are not mere replications of nature. Their effectiveness relies as much on what is implied or indicated as on what is directly portrayed. He chooses not to tell the whole story in favor of encouraging his viewers to create their own interpretations, bringing forth their individual experiences and emotions to infuse the painting with a unique and personal life.
Martin works exclusively in oils and is a Signature Member of Plein Air Florida.